My deep interest in the fields of (micro/macro) rhythm and data music, came together in the BBC Radio 4 'The Rhythm of Life' 2-episode series presented by Evelyn Glennie. A great pleasure to chat rhythm and music translations with her, among fabulous Bridget Riley prints at the Tate Britain. I appear briefly at the end of Episode 1, but with more to say in Episode 2 The World as an Orchestra.
Listen live on Tuesday 28th 2018 and September 1st 2018 11.30am, or catch up after the first airing here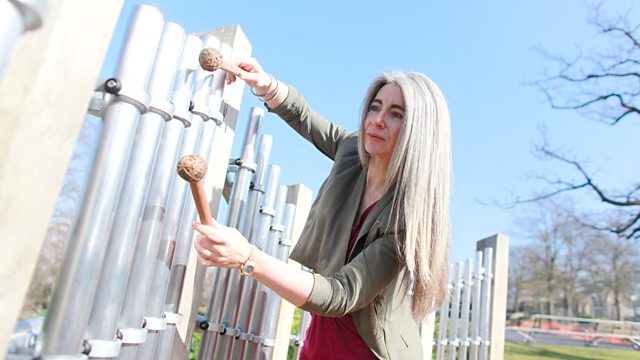 Here's some background 

Virtuoso percussionist Dame Evelyn Glennie reveals a hidden world of rhythm around us and searches for musical inspiration from some unlikely sources.
As a musician and rhythm obsessive, Evelyn has always beenfascinated by the rhythmic nature of the world around us. She explains that, by learning to focus our attention, we can tap into a complex realm of energy and pattern in our surroundings. Over the course of the programme, Evelyn tunes into everything from the oscillation of a tree in the wind to the polyrhythmic groove of our solar system.
Visiting the Mini plant in Oxford, an enormous factory that beats out a steady meter of 1000 cars a day, Evelyn surveys the endless rows of robotic arms and describes the location as "like being in a massive percussion instrument". Walking around the factory, Evelyn is desperate to "play the space". Back in her studio, surrounded by percussion instruments, she does exactly that – hammering out a metallic improvisation inspired by the rhythms of the production line.
Evelyn explains that she has always drawn inspiration from non-musical art forms. At Tate Britain, surrounded by prints by Bridget Riley, Evelyn meets the composer Milton Mermikides who uses digital technology to translate Riley's famously rhythmic paintings into mesmeric music. Evelyn also performs a percussive piece in response to the looping rhythms of Riley's work.
Finally, Evelyn gazes up at the buildings that line the Thames with composer Peter Adjaye, whose work is heavily influenced by the rhythm of architecture. Evelyn explains that, like a piece of music, a building is a composition based on structure, ornamentation, repetitive patterns and layer upon layer of rhythm.
Presenter: Evelyn Glennie
Producer: Max O'Brien
A TBI production for BBC Radio 4.
(Visited 198 times, 1 visits today)